*****************************************************************************

Jazzy Ladies and Soul Revue Show will air on Ch 95 Wednesday, August 22, August 29 and Sept 5, 2007 at 7:00pm please check it out. This was a Mike Monteiro production live at the New Bedford Cable Access studio recorded July 28, 2007. Link at bottom of this page to view the Jazzy Ladys channel 95 tv performance.

*****************************************************************************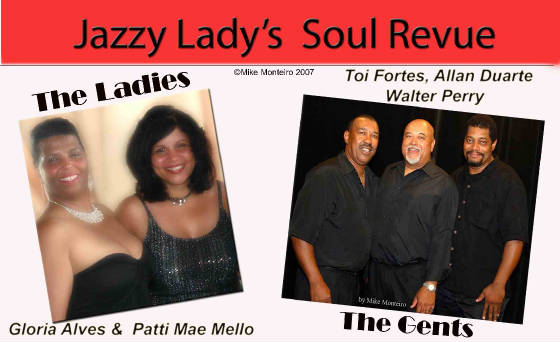 Jazzy-Ladys Soul Revue Is A Perfect Fit For Anniversary Celebration, Benefit, Birthday Party, Corporate Functions, Holiday Parties, Private Parties, Social Event, Weddings, Festivals and more!!
Jazzy-Ladys Soul Revue features vocalists performing all of the super hits of the Motown Soul era. This revue features some of New Bedford's talented soulful sexy vocalists who are authentically and precision entertainers with a very diverse repertoire and style.

Jazzy-Ladys Soul Revues tremendous vocalists recreate the dynamic vocal harmonies and music styling of classic Motown Soul hits of the 60s, 70s, 80s and early 90s: With Jazzy-Ladys Soul Revues unique distinctive version of soulful Motown ballads, an up tempo R&B classics or golden oldies takes you on a realistic journey of the Motown Soul sounds, and every performance sends you back to another era, what at treat!

With the groups ability to read the crowd, the group can change directions on a dime; heating up the floor with a disco groove or cooling things off with a beautiful ballad. The group does it all!! Songs from such famous artists as the Temptations, Stevie Wonder, Marvin Gaye, Etta James, Spinners, Whispers, Ray Charles, the Drifters, James Brown, Barry White, Luther Vandross, Gladys Knight and the Pips, The Supremes, Tavares, Lionel Ritchie, Lou Rawls, Wilson Picket and many more.
Whether you are looking to dance, have a good time or see a great show Jazzy-Lady's Soul Revue is the way to go !
*****************************************************************
Click here to watch the Jazzy Lady's Ch95 Performance
Buy the Jazzy Ladys DVD and/or CD soundtrack
Sign our Guestbook  View our Guestbook